This Actress and Idol Creates Kawaii Gundam Models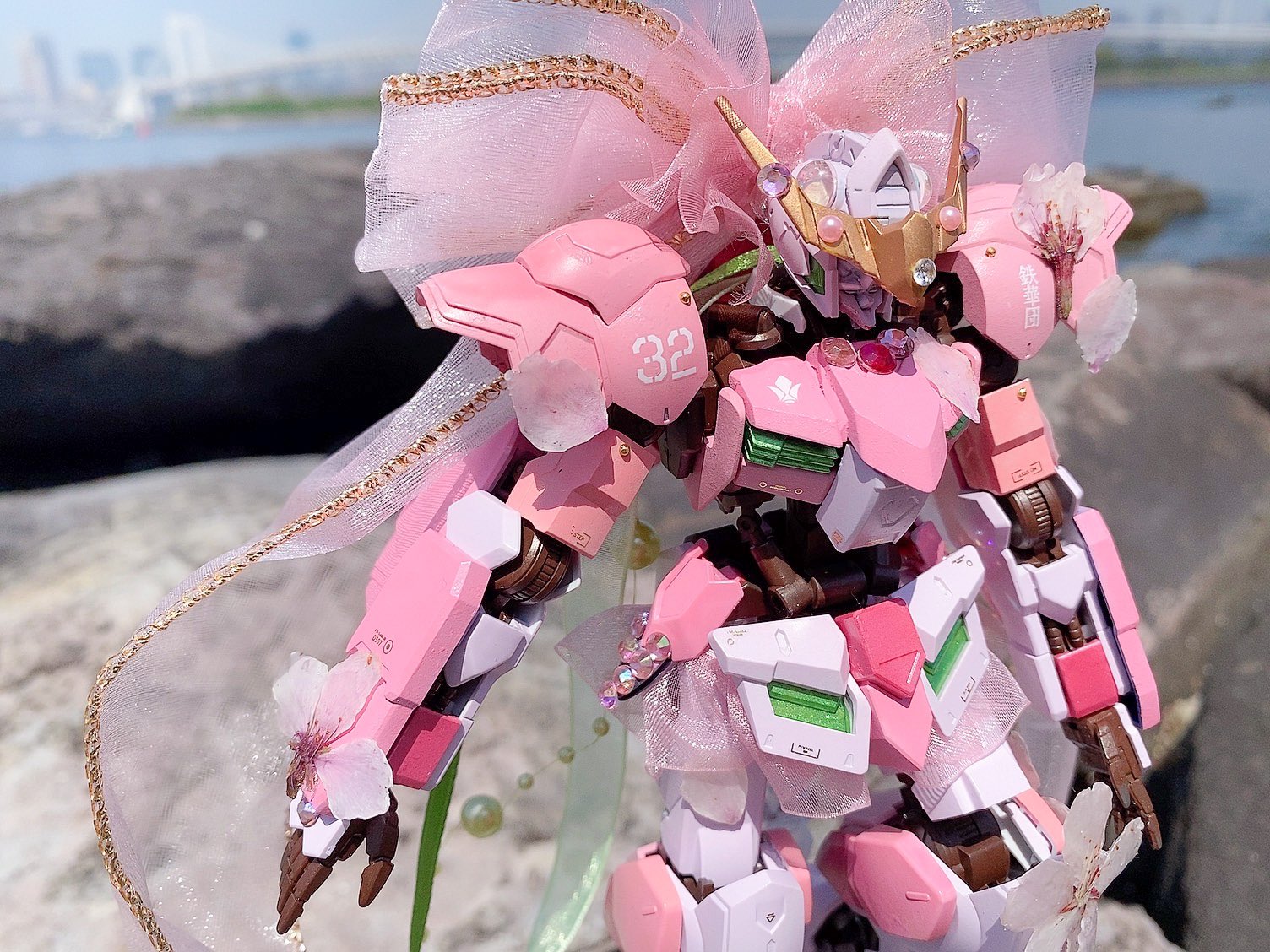 Some people are fans of Gundam. Some people are fans of kawaii, or cute things. Some people are fans of both. Case in point is idol and actress Mizu Minamo, who creates her own kawaii Gundam figures!
Minamo, who goes by @32_Archangel on Twitter, is really into Gunpla, or Gundam plastic models. You can make the models exactly the way they are, or you can add to them. She has decided to creatively add to them, such as this example of the ASW-G-08 Gundam Barbatos (seen in Mobile Suit Gundam: Iron-Blooded Orphans) decked out in pink and sakura blossoms (not the way seen in Mobile Suit Gundam: Iron-Blooded Orphans). There's a reason why Minamo refers to her creations as "kawaii Gunpla."
This festively pink look is pinned as her top Tweet.
She also took one of her Gundam models to visit Tokyo's the life-size Unicorn Gundam Statue. The way the picture is set up, the size difference isn't as clear.
The Magical Girl genre is very popular in anime and manga, so as long as Minamo was going for the kawaii look, she decided to go for the look of a Magical Girl Gundam as well, down to the heart-shaped wand.
I made a new Gunpla.
The title is 💗Fantasy Strike💗

Strike Gundam finished as a magical girl.
Do you like Japanese "kawaii" culture?

My favorite character in the GundamSeed is Yzak.♡♡♡ pic.twitter.com/JoZoFgUyyR

— 水萌みず໒꒱mizu minamo (@32_Archangel) July 20, 2022
She recently shared these different examples of her work, leaving a note in English asking for people to follow her. Right now she has just short of 9,000 followers, but if more people check out the amazing details she puts into her Gundam, odds are she'll get a lot more.
Thank you for taking a look at my work. I am an idol&actress, but I also like Gunpla. I make "kawaii" Gunpla.

Do you like Gunpla too? I will continue to upload my works, so please check back!

And please spread the word!💓#Gunpla #Gundam pic.twitter.com/I7ZXfopqw9

— 水萌みず໒꒱mizu minamo (@32_Archangel) July 18, 2022
And she has promised to keep up with her kawaii creations, as seen here:
Thanks for your comment!

I will continue to make cute Gunpla!🥰💗

— 水萌みず໒꒱mizu minamo (@32_Archangel) July 19, 2022
Do you have a favorite kawaii Gundam as seen here? If you were going to redesign a Gundam, how would you do it?
Source: SoraNews24
____
Danica Davidson is the author of the bestselling Manga Art for Beginners with artist Melanie Westin, plus its sequel, Manga Art for Everyone, and the first-of-its-kind manga chalk book Chalk Art Manga, both illustrated by professional Japanese mangaka Rena Saiya. Check out her other comics and books at www.danicadavidson.com.